Thurston Machine Co. Ltd. takes pride in the quality we provide and that we save our customers on project time and costs as a result of our state-of-the-art equipment and technology amongst a 55,000 sq. ft. welding and fabrication space. Our fabrication and weld team members have a combined 150 years of experience, possessing the skills and expert knowledge to provide superior quality with every order. We pride ourselves in being able to manufacture both one-off or high-volume production runs while maintaining the highest level of quality.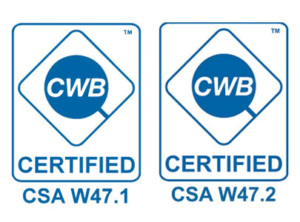 Our welders are all Canadian Welding Bureau (CWB) certified and highly skilled in the Metal Inert Gas (MIG), Tungsten Inert Gas (TIG), stick electrode welding and Submerged Arc Welding (SAW) techniques – enabling Thurston Machine to be the leading service provider in these specialized skills in the manufacturing sector. Our team can weld mild steel, carbon steel, stainless steel, aluminum, and dis-similar metals for a wide range of material grades and thicknesses.
Thurston Machine can put down welds faster and more efficiently, saving our customers on project time and costs, as a result of our ESAB equipment with the latest ICE™ technology. We can accommodate oversized projects and have a third-party weld engineer on retainer so we can react quickly for weld procedures, followed by independent Non-Destructive Testing (NDT). Our third-party NDT engineer is certified in radiography, ultrasonic, magnetic particle, and liquid penetrant testing to the Canadian Government Specifications Board CAN/CGSB standards 48.9712, The American Society for Nondestructive Testing (ASNT) SNT-TC-1A and The British Institute of Non-Destructive Testing (BINDT). They have level 3 CGSB, ASNT and BINDT certified personnel of all methods on staff.
Our customers can depend on Thurston Machine to meet their complex welding needs as we are always expanding our procedures and certifications.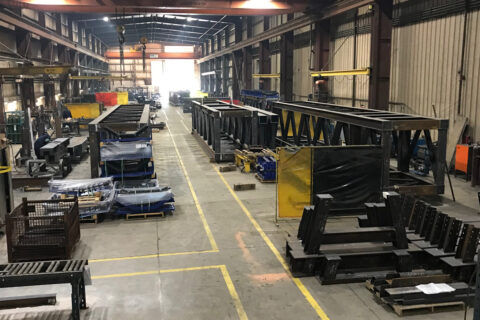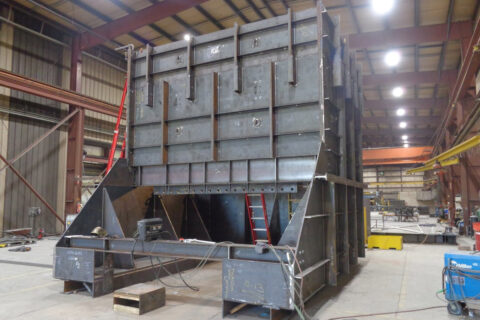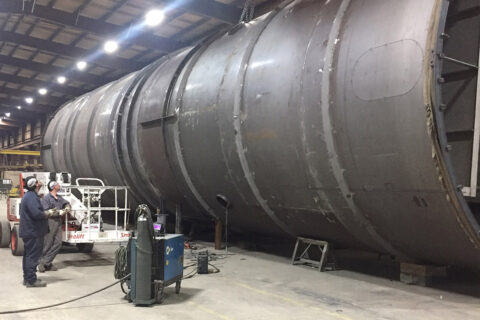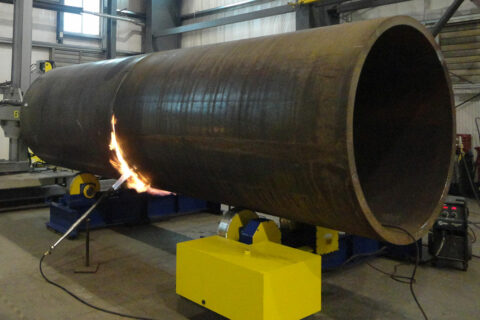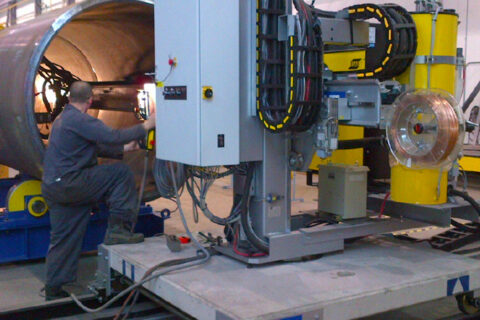 Latest Equipment and Technology Specs
One (1) ESAB 300MM 4X4 MOBILE MANIPULATOR: Complete with laser tracking and camera monitoring, this machine also has the latest ICE™ technology, which allows it to burn two hot wires on the outside and a cold wire in the middle
One (1) ESAB A2T TRACTOR SUB ARC SYSTEM: Which allows us to be totally portable
Crane capacity: 80-ton max
Nuclear CSA N299.3 compliant company
CWB certified facility W47.1 "Certification of Companies for Fusion Welding of Steel" in the Division 2
Certified in W47.2 for aluminum
Certified in AWS (American Weld Standard) procedures
SOLUTIONS MADE SIMPLE
Contact us today for our turnkey services for all your manufacturing needs.