Dedicated to Quality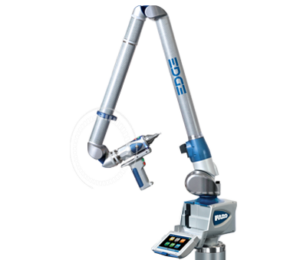 Thurston Machine Co Ltd is your number one trusted solution provider and industry leader in all stages of a project. We provide a cohesive quality package through which our customers are assured we are providing them a superior product that meets all of their specifications and requirements. At Thurston Machine, all our skilled trades professionals are experts and certified in their field, and our customers can depend on us through all stages of quality testing. From Material Test Reports (MTR) through to final Factory Acceptance Testing (FAT), we have a dedicated Quality Manager and Inspector. Our testing and inspection is backed by our in-house coordinate measuring machine (CMM) for meeting precise quality specifications using The Gage Max FaroArm portable CMM and FARO Vantage Laser Trackers.
As a Canadian Welding Bureau (CWB) facility, Thurston Machine works with our customer's engineers to ensure our products meet and exceed all quality standards. We strive to provide our clients with the utmost confidence in our work, choosing to sub-contract our Non-Destructive Testing (NDT) out to a third-party supplier. This guarantees our customer's that their product is upheld to the highest standards by an additional source outside of our facility.
All of our welders are certified by CWB and are highly skilled in the MIG (Metal Inert Gas), SAW (Submerged Arc Welding), TIG (Tungsten Inert Gas) and stick electrode welding techniques.

Our Quality Specification
ISO9001: 2015 registered company
Nuclear Canadian Standards Association (CSA) N299.3 compliant company – for manufacturing of nuclear components
CWB certified facility W47.1 "Certification of Companies for Fusion Welding of Steel" in the Division 2ß
CWB certified facility W47.2 "Certification of Companies for Fusion Welding of Aluminum" 
The Gage Max FaroArm portable CMM and FARO Vantage Laser Tracker inspection equipment combined with calibrated manual measuring equipment
Dedicated quality manager and dedicated quality inspector
Third party inspector on retainer: Certified in radiography, ultrasonic, magnetic particle and liquid penetrant to the Canadian Government Specifications Board CAN/CGSB standards 48.9712, American Standard ASNT SNT-TC-1A and BINDT
Third party inspector on retainer: Certified by the CWB to CSA W178.1 and the American Welding Society (AWS) QC1
LET'S GET STARTED
We have the facility, equipment, and skilled professionals waiting to start your next project.